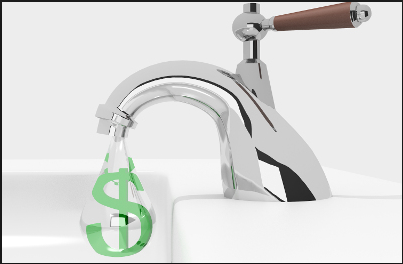 More Savings for Your Summer
In the summer, when the weather is hot and sweltering, there can be nothing better than a cool shower to help beat the heat. Even better, going outside and setting up the sprinkler or spraying the hose can be a quick and fun way of staving off the heat during the summer months.
For this, high efficiency plumbing is essential to have. Keeping costs low in the summertime can be difficult without it and doing all of the aforementioned things can send your water bill through the roof just like the temperature on the thermometer.
What steps can you take to combat those high water bills and enjoy your summer without having to dread receiving the water bill in the mail? Can you make these changes without having to reduce the number of times that you use your water fixtures? Here are a few keys to take note of.
What Does Water Efficient Mean?
Being water efficient means reducing the amount of water wastage by measuring the amount of water that is required for a particular purpose and then limiting the amount of water that is used or delivered. This is different from water conservation in that it has a focus on reducing waste, not necessarily restricting the use of water.
Tankless water heaters can help with becoming more water efficient. There are also energy efficient HVAC systems that can help to lower your overall energy costs as well.
High-Efficiency Plumbing Fixtures
High efficiency plumbing fixtures are a great way to reduce the amount of water being wasted in your home. These are fixtures that have been constructed to use less water with each intended use, saving on the total amount of water that is used by the household as a whole.
Some high efficiency fixtures can reduce the usage of the average family by as many as 700 gallons per year. That is obviously a sizable amount and not something to scoff at.
What Are Water Efficient Fixtures?
Your standard water efficient fixtures mostly come from the bathroom, where the most amount of water is used. This includes bathroom faucets, shower heads or faucets, and toilets. This can also entail washing machines, dish washers, and kitchen sinks as well, though the washing machines and dish washers are becoming more standardized in reduced water usage and not something you may have to immediately focus on.
How do Low Flow Faucets Work?
Low flow faucets help to reduce the amount of water flowing through the fixture by acting as a sieve. This means that the water separates from a single flow into separate tiny streams. This means that there is less space for the water to flow, reducing the amount of water that is used.
By using this technique water pressure is maintained, even when less water is used. Most don't notice a difference in the amount of water coming out of a low flow faucet even though they save about a gallon of water per use.
Plumbing Fixtures With Low Rates
Finding high efficiency plumbing fixtures that generate low water usage rates can go a long way towards water waste reduction and, ultimately, reducing your water bill. The rates at which water flow is reduced depend upon the fixture and its individual specifications.
Low flow toilets in particular are a great way to incorporate high efficiency plumbing into your home. Toilets have traditionally used a lot of water per flush, in the several gallon range typically, and low flow toilets now have the capability of using far less water.
High-Efficiency Faucets Are Key
In the United States each year, there are more than 3 trillion gallons of water that could be saved if water-efficient fixtures were used. This is true as well of high efficiency water faucets. The amount of water wasted in kitchen and bathroom sinks each year is staggering, especially considering the amount of water that could be saved simply by using high efficiency faucets.
Faucets use more than 2.5 gallons per minute when standard faucets are used. Installing a high efficiency plumbing fixture such as a faucet would reduce that by a full gallon per minute per household. That adds up to a lot of gallons of water saved every year if the switch to high efficiency faucets were more widespread.
How Much Water do Aerators Save?
This depends highly on the aerator being used. Some can reduce the water flow of a sink by up to 30 percent or more, depending on which type of aerator that you are using. By reducing the amount of water flow used by a sink, you reduce the amount of water that is ultimately wasted.
Aerators are great for those on a budget. Replacing fixtures can be pricey and an aerator reduces water flow without having to replace an entire fixture.